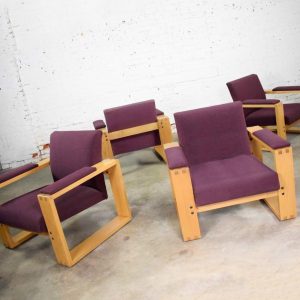 Modern Open Frame Club Chairs with Floating Seat in Oak and Aubergine Fabric Set of 4
These vintage modern club chairs are simply quite fabulous. We are selling them as a set of four because they look so darn good together. Besides being nice to view they are very sturdy. Comprised of an oak open frame with a floating seat and back upholstered in a gorgeous aubergine color tweed-like fabric with a dark blue thread. The construction method of this chair is celebrated with the joinery becoming the adornment. The open light oak frame is comprised of flat solid oak planks that are joined at the corners with beautiful box joints and the crossbars are joined to the open sides with large decorative bolts. The tops of the flat arms have been upholstered for elbow comfort. You better hurry and make these yours or you may not be able to pry us out of them.
Price: $5,495
SKU: 414-SEA-265
Product Short Description :
Handsome set of four modern oak open frame club chairs with a floating seat upholstered in a beautiful aubergine fabric. They are all in wonderful vintage condition. But they are vintage and in their original fabric so are not perfect. Please see photos. Circa late 20th century.
NOTE: We have also listed six identical club chairs apart from their upholstery which is complementary to these but not in good condition on most, just in case you need more.
Chair:
Height – 29.75 Inches
Width – 31.25 Inches
Depth – 30 Inches
Arm Height – 21.5 Inches
Seat Height – 14.5 Inches
Inside Seat Width – 21.75 Inches
Inside Seat Depth – 22 Inches
Inside Back Height – 17 Inches
Weight – 55.6 Pounds Each
Crated Size:
Height – 51 Inches
Width – 70 Inches
Depth – 36 Inches
Weight – 420 Pounds
Additional Information:
Dimensions: N/A
Weight: N/A
STYLE / PERIOD: Modern
MATERIALS: Fabric, Oak
DATE: Circa: Late 20th Century