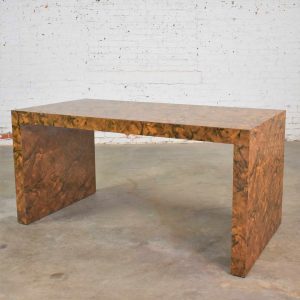 Modern Waterfall Parsons Table Desk in Faux Tortoise Shell Laminate Style Karl Springer
Wow! This is a fabulous piece of modern furniture. Is it a dining table? Or is it a desk? It could be a large console table? Maybe it's all three! Whichever it is used for I am in love. Its simple classic design has always been in style in my opinion, but the current design magazines all say the waterfall table style is the hot new item for 2020! This one is comprised of a mixed wood substrate which is covered in a gorgeous faux tortoise shell laminate. Or is it faux burlwood? Hmmmm…maybe its faux marble. Oh well. You decide. They are all gorgeous. We think its waterfall styling, or shall we say Parsons u-shape, and the exotic look of the laminate is reminiscent of a piece Karl Springer would have designed. Chunky and simple. Have you fallen in love? Surely you have. Make it yours!
Price: $2,495
SKU: 414-TBL-187
Product Short Description :
Handsome modern table, console table, or desk in a waterfall parsons styling covered in a faux tortoise shell laminate and made in the design style of Karl Springer. It is in wonderful vintage condition. It does have a small repair to the laminate at bottom of one leg. Please see photos. Circa 1970s maybe 1980s.
Table Size:
Height – 29 Inches
Width – 60 Inches
Depth – 29.75 Inches
Weight – 126.5 Pounds
Crated Size:
Height – 35 Inches
Width – 66 Inches
Depth – 36 Inches
Weight – 250 Pounds
Additional Information:
Dimensions: N/A
Weight: N/A
STYLE / PERIOD: Modern
IN THE STYLE OF: Karl Springer
MATERIALS: Faux Tortoiseshell, Mixed Wood Substrate, Laminate
DATE: Circa: 1970s, 1980s