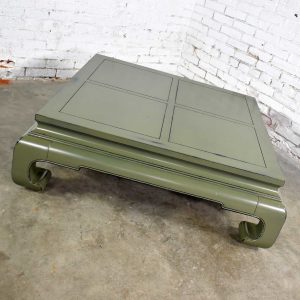 Monumental Square Asian Ming Style Lacquered Coffee Table in Sage Green
Beautiful things seem to seek us out! That makes me happy because I get to offer them to you. Just look at this gorgeous coffee table for example. It was originally produced around 1950s-1970s but has been given a new fabulous look. It is done in an Asian Ming style and monumental and chunky in size. With the high quality and solid construction like a piece by Baker and the big bold brave look of James Mont. The new finish it was given is a deep sage green and has been rubbed through to black in places where normal wear would occur over the years. It is very professionally done and looks as though it came from the factory this way. The color is very neutral and complements most other colors well. Its style is bold but will blend with or complement about any other design style with which it is paired. I can imagine it with mid-century modern to California modern and from industrial to traditional. I think every room can use a little Asian flair. This is just the coffee table you have been waiting for. Make it yours!
Price: $3,495
Product Short Description :
Handsome monumental in size square chunky Ming style coffee table. Recently lacquered a deep sage green with a faux distressed, faded, or rubbed through look. It is in awesome condition and ready to use. There may be small scratches or marks that only enhance its look. Please see photos. Originally circa 1950s-1970s.
Table Size:
Height – 14.25 Inches
O/A Width – 46.25 Inches
Top Width – 42 Inches
O/A Depth – 46.25 Inches
Top Depth – 42 Inches
Leg Size – 10.5H x 5.5W x 5.5D Inches
Weight – 106.5 Pounds
Crated Size:
Height – 21 Inches
Width – 52 Inches
Depth – 52 Inches
Weight – 250 Pounds
Additional Information:
Dimensions: N/A
Weight: N/A
STYLE / PERIOD: Asian, Chinoiserie
IN THE STYLE OF: Baker, James Mont
MATERIALS: Lacquer, Wood
DATE: Circa: 1950s, 1960s, 1970s