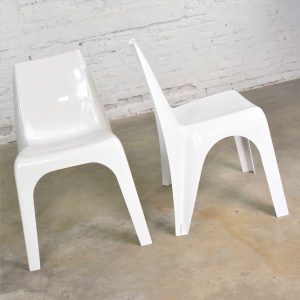 Pair Vintage Modern White Molded Plastic Chairs Style of Kartell 4850 by Castiglioni et al
What a fabulous pair of chairs! They can be used indoors or outdoors so that is a bonus. They are vintage circa 1970s and marked on the bottom USA Patent Pending. And…they are a puzzlement. They are done so closely in the style of the 4850 chair by Kartell and designed by the trio of Georgina Castiglioni, Geiorgio Gavirachi, and Aldo Lanza, that I thought that is what they were till I saw the bottom mark. I have done quite a bit of research to determine if Kartell in fact had pieces produced in the USA but did not find that to be true or not true. The 4850 chair is purported to be the first chair made in a single stackable monocoque. However, there is a German chair made at the same time by Bofinger and designed by Helmut Batzner which is almost identical that is touted as being the first one-piece mass-produced stackable plastic chair. It was the time of plastic exploration in furnishings so who is to say this pair were not the first! The daughter of the original owner says she remembers well her parents purchasing them and being so proud of their new plastic furniture. We have fallen in love with their sleek mod style and know you have too. They will be perfect wherever you decide to use them. Make the pair yours!
Price: $1,195
SKU: BEL-SEA-302
Product Short Description :
Handsome vintage pair of modern white molded plastic chairs in the style of Kartell's 4850 chair designed by Giorgina Castiglioni, Geiorgio Gaviraghi, and Aldo Lanza. These are marked USA Patent Pending. They are in wonderful vintage condition. They vary slightly in color due to age. Please see photos. Circa 1970s.
Chair:
Height – 30.25 Inches
Width – 21 Inches
Depth – 29 Inches
Seat Height – 17.5 Inches
Inside Seat Width – 15 Inches
Inside Seat Depth – 14.5 Inches
Inside Back Height – 15 Inches
Weight – 6.1 Pounds Each
Boxed Size:
Height – 40 Inches
Width – 27 Inches
Depth – 25 Inches
Weight – 25 Pounds
Additional Information:
Dimensions: N/A
Weight: N/A
STYLE / PERIOD: Modern
IN THE STYLE OF: Aldo Lanza, Geiorgio Gaviraghi, Giorgina Castiglioni, Kartell
MATERIALS: Molded Plastic
COUNTRY OF ORIGIN: United States
DATE: Circa: 1970s