Paul McCobb Planner Group Mid Century Modern Full-Size Headboard Brass & Birch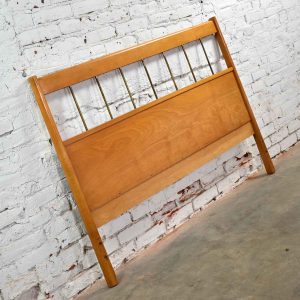 If you are looking for an iconic, simple, and handsome bed, or should I say headboard, here it is. This headboard is from the Planner Group which was designed by the renowned Paul McCobb for Winchendon. It is comprised of two round and slightly tapered simple birch posts which are connected by a wide flat horizontal piece of birch and a narrower top rail of horizontal birch. Those two pieces are then connected vertically with small diameter brass spindles. Its simplicity, as with most of mid-century furnishings, is a large part of its beauty.
Paul McCobb (1917-1969), is a 20th Century design genius. He wanted to be an artist from childhood and studied drawing and painting for a time but left his studies to enlist in the Army in 1942. Only serving a short time and was medically discharged in 1943. McCobb's design genius was first noticed while working as a design and decorating consultant for Martin Feinman's Modernage Furniture in New York City in 1948. While there he met B.G. Mesberg who later became his business partner in the Planner and Directional furniture lines. He won many awards and is represented in museums around the world. His other well-known furniture lines are Predictor, Calvin Group, Directional, Irwin Group, and Connoisseur Collection. Paul McCobb's trend-making designs were an influence in all facets of the home furnishing field during the mid-century modern era. They proved to be classics and are widely sought after by collectors today.
You should make this fabulous mid-century modern piece of history yours.
Price: $995
SKU: 414-BED-012
Product Short Description :
Handsome yet simple full-size headboard from the Planner Group designed by Paul McCobb for Winchendon. It is in fabulous original vintage condition with no outstanding flaws we have detected. Please see photos. Circa mid-20th century.
Headboard:
Height – 38 Inches
Width – 53.25 Inches
Depth – 1.5 Inches
Weight – 17.5 Pounds
Boxed Size:
Height – 42 Inches
Width – 58 Inches
Depth – 6 Inches
Weight – 35 Pounds
Additional Information:
Dimensions: N/A
Weight: N/A
DESIGNER: Paul McCobb
MAKER: Winchendon
LINE/COLLECTION: Planner Group
STYLE / PERIOD: MId-Century Modern
MATERIALS: Birch, Brass
DATE: Circa: Mid-20th Century