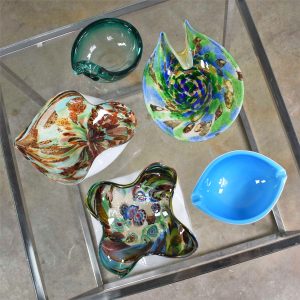 Set 5 Pieces Italian Murano Glass Dishes AVeM Tutti Frutti & Others Turquoise Blue Green
Look at this fantastic collection of Italian Murano glass that we put together for you. These five pieces look completely incredible together and we just could not split them up, so we are selling them as a set. The three Tutti Frutti specimens look so much like sea creatures or urchins, and one is totally a stingray! They all have a mixture of murine, zanfirico, and silver and gold leaf. The one, with more brown mixed in with the greens and blues, retains its original Murano label but there is no doubt all are Italian. All are attributed to AVeM. There are two pieces that are not Tutti Frutti, but their colors are gorgeous mixed with the other three. One is a clear deep sea-green and one a bright turquoise blue cased in white. They all look fantastic together and will be a showstopper wherever you place them. Just make them yours!
Price: $2,495
SKU: 414-DEC-224
Product Short Description :
Gorgeous set of five pieces of Italian Murano glass dishes. One Tutti Frutti by AVeM with label, two Tutti Frutti attributed to AVeM but no labels, one clear teal, and one turquoise and white. We are selling these as a set just because they look so fabulous together. Four are in wonderful vintage condition with no chips, cracks, or chiggers. There is some shelf wear to bottoms. One, Tutti Fruitti with the AVeM label, has a very small rim chip that has been polished. You will have to look very closely to see it. We found it only by feel. Please see photos. Circa mid-20th century.
Measures:
Brown White Green with Label – 3H x 10W x 7.75D Inches 1.6 Pounds
Blue Green White w/4 Lips – 3H x 9.75W x 9.5D Inches 2.4 Pounds
Blue Green Amber Stingray – 3H x 10.25W x 8D Inches 2.8 Pounds
Sea Green Clear – 3H x 6.25W x 5.5D Inches 1.9 Pounds
Turquoise w/White Casing – 2.75H x 7.25W x 5.5D Inches 1.7 Pounds
Weight All – 9.5 Pounds
Boxed Size:
Hight – 16 Inches
Width – 20 Inches
Depth – 18.5 Inches
Weight – 17 Pounds
Additional Information:
Dimensions: N/A
Weight: N/A
STYLE / PERIOD: MId-Century Modern
LINE/COLLECTION: Murano Glass, Tutti Frutti
MAKER: AVeM
MATERIALS: Blown Glass, Art Glass
COUNTRY OF ORIGIN: Italy
DATE: Circa: Mid-20th Century