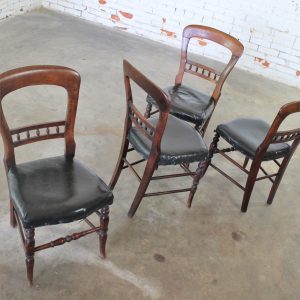 Set of Four Antique Victorian Hairpin Back Dining Chairs
This set of four walnut hairpin back antique Victorian dining chairs need a little love but they sure have great lines and good bones. The design of the chair is so simple yet exceptionally attractive with their waisted hairpin or balloon backs, spindled center splat, and turned front legs. The smooth finish and warmth of the wood makes you want to reach out and caress them. I would call their condition distressed. They still have their original black leather-like upholstery with nailhead trim and, although it is far beyond usable, it gives you the IDEA of their once grand appearance and what they can be again. The joints do need regluing but they would not fall apart if used. These are wonderful antiques to be treasured for generations to come.
Price: $995
SKU: CHR-SEA-004
Product Short Description :
Great set of four antique walnut Victorian dining chairs with hairpin or balloon waisted backs. They are in distressed original condition.
Measures:
Height 33.25 inches,
width 16.5 inches,
depth 20 inches,
seat height 17 inches,
weight 11 pounds each.
Additional Information:
Dimensions: N/A
Weight: N/A