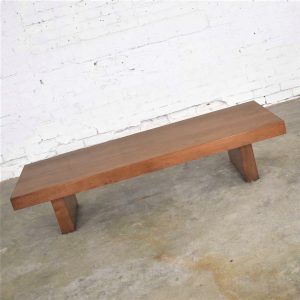 Show-Pieces Mid Century Modern or Asian Low Coffee or Teahouse Table Bench in Walnut
Show-Pieces Teahouse Table. I just love that name. It is the name on the bottom of this awesome mid-century modern coffee or cocktail table which hints at its gorgeous nod to Asian style furniture pieces. We have searched high and low to find the maker of this fabulous piece to no avail. We are not sure if Show-Pieces is the maker name, a retailer name, an importer name, or just a line of furniture by some other maker. But who cares when a table is as interesting and versatile as this? I think what is written on its label is the best way to describe this lovely showpiece, so here goes: Show-Pieces are especially designed to utilize the beauty of genuine wood grains, styled to enhance any decorative scheme. Show-Pieces are manufactured by craftsmen using the most modern materials, techniques, and equipment to ensure long life and to withstand hard usage. All material and workmanship in Show-Pieces are….and this is where the label has been torn away! So, whether you have a mid-century modern room you are decorating or a myriad of other design styles to choose from this table is sure to fit right in. You might even use it as a bench! Make it yours!!!
Price: $2,295
Product Short Description :
Handsome mid-century modern or Asian style low coffee table, cocktail table, bench, or Teahouse Table, as it is titled on its label along with Show-Pieces which we assume is the maker or brand. Solidly constructed of wood with walnut veneer. It is in wonderful vintage condition. We have done nothing but clean its original beautiful finish. It does have some signs of age and use as you would expect for its age. Note some discoloration at the very bottom of the slab legs and there were two very small veneer chips that have been filled and colored. Please see photos. Circa Mid-20th Century.
Note: We do have a custom piece of ¼ inch glass that fits the top. Please let us know when purchasing if you would like the glass to be shipped as well.
Table/Bench:
Height – 12.5 Inches
Width – 58 Inches
Depth – 22 Inches
Edge Profile Width – 2.75 Inches
Weight – 30.5 Pounds
Boxed Size:
Height – 19 Inches
Width – 64 Inches
Depth – 28 Inches
Weight – 50 Pounds
Additional Information:
Dimensions: N/A
Weight: N/A
MAKER: Show-Pieces
STYLE / PERIOD: Asian, MId-Century Modern
MATERIALS: Walnut
LINE/COLLECTION: Teahouse Table
DATE: Circa: Mid-20th Century