Small Scale Mid Century Modern Walnut and Brass Lamp Style of Laurel Lamp Mfg. Co.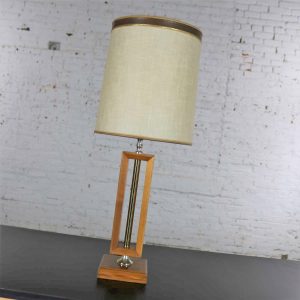 We are loving this little lamp here at the shop. It came in with a group of other lovely mid-century modern pieces and because of its diminutive size was rather brushed aside till we had time for it. Well…….if we had only known, we would have put it right up front. After totally restoring it, both its finish and workings, we fell in love. It is comprised of a solid walnut rectangular frame which is suspended by the brass shaft running through the middle of it which attaches it to the square walnut base. It is topped by its original small textured ecru shade with a brown ribbon-like top trim bordered in gold cord and a gold cord bottom trim. This handsome architectural formed lamp will look fabulous in your hallway on a beautiful credenza or maybe in your bedroom or dining room. You need to make it yours.
Price: $795
SKU: 414-LTG-048
Product Short Description :
Handsome small-scale mid-century modern lamp in walnut with brass detail in the style of Laurel Lamp Mfg. Co. It is in wonderful condition having been rewired and given a new socket. The walnut and brass are beautiful, and it retains its original petite drum shade. Circa 1950s-1960s.
Lamp:
O/A Height to Top of Shade – 29.5 Inches
Height to Top of Socket – 19.25 Inches
Height to Top of Base – 14.75 Inches
Base Width and Height – 5.75 x 1.25 Inches
Shade Size – 11.75 D x 13.25 H inches
Weight with Shade – 3.9 Pounds
Boxed Size:
Height – 30 Inches
Width – 16 Inches
Depth – 16 Inches
Weight – 6 Pounds
Additional Information:
Dimensions: N/A
Weight: N/A
IN THE STYLE OF: Laurel Lighting
STYLE / PERIOD: MId-Century Modern
MATERIALS: Brass, Walnut
DATE: Circa: 1950s, 1960s