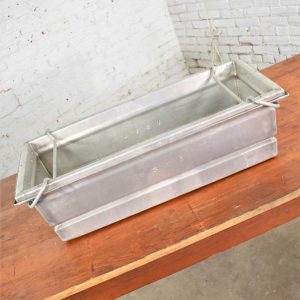 Vintage Aluminum Troughs Planters Sinks Containers Vessels 10 Sold Separately
These are so dang cool and unusual!!!! What they were originally we believe were food troughs at the USVA hospitals. Or possibly…garbage troughs?? Rectangular and made of aluminum with tapered sides and flat bottoms plus very handy bail handles on either end. They are so very versatile, and their uses are nearly endless. Some of the things we have used them for over the years (in our design projects while we were interior designers before we retired to sell our wares) are many. We used them as planters and window boxes; containers for food and dry goods on a lower shelf in a huge kitchen island; as a centerpiece on a long gorgeous farmhouse table; as a vessel bar sink, a laundry room sink, and a potting shed sink; as magazine and book holders; as toy containers for a child's bedroom; and we have even iced down a few beers. They are priced individually, so you pick how many you need to do what you want to do. There are currently 10. Make a few yours!
Price: $695
Product Short Description :
Cool vintage aluminum troughs, planters, sinks, containers, or vessels with bail handles. They are all in wonderful vintage condition with lots of nice patina. These do not look new nor are they meant to look new. They have awesome dings dents and marks that can only come with age and use! Please see photos. Circa 20th century. They are priced separately, and you may purchase 1 up to 9.
NOTE: Two are of a slightly different style and size.
Trough Size:
Height – 10.25 Inches
Width – 35 Inches
Depth – 16.5 Inches
Weight – 10.9 Pounds Each
Additional Information:
Dimensions: N/A
Weight: N/A
STYLE / PERIOD: Country, Modern Country, Western, Industrial, Primitive, Rustic
COUNTRY OF ORIGIN: United States
MATERIALS: Aluminum
DATE: Circa: Early to Mid-20th Century