Selection Required: Select product options above before making new offer.
Error: There was an error sending your offer, please try again. If this problem persists, please contact us.
Vintage Chinoiserie Chinese Elm Wedding Opium Canopy Bed Hand Carved Asian Designs Queen Size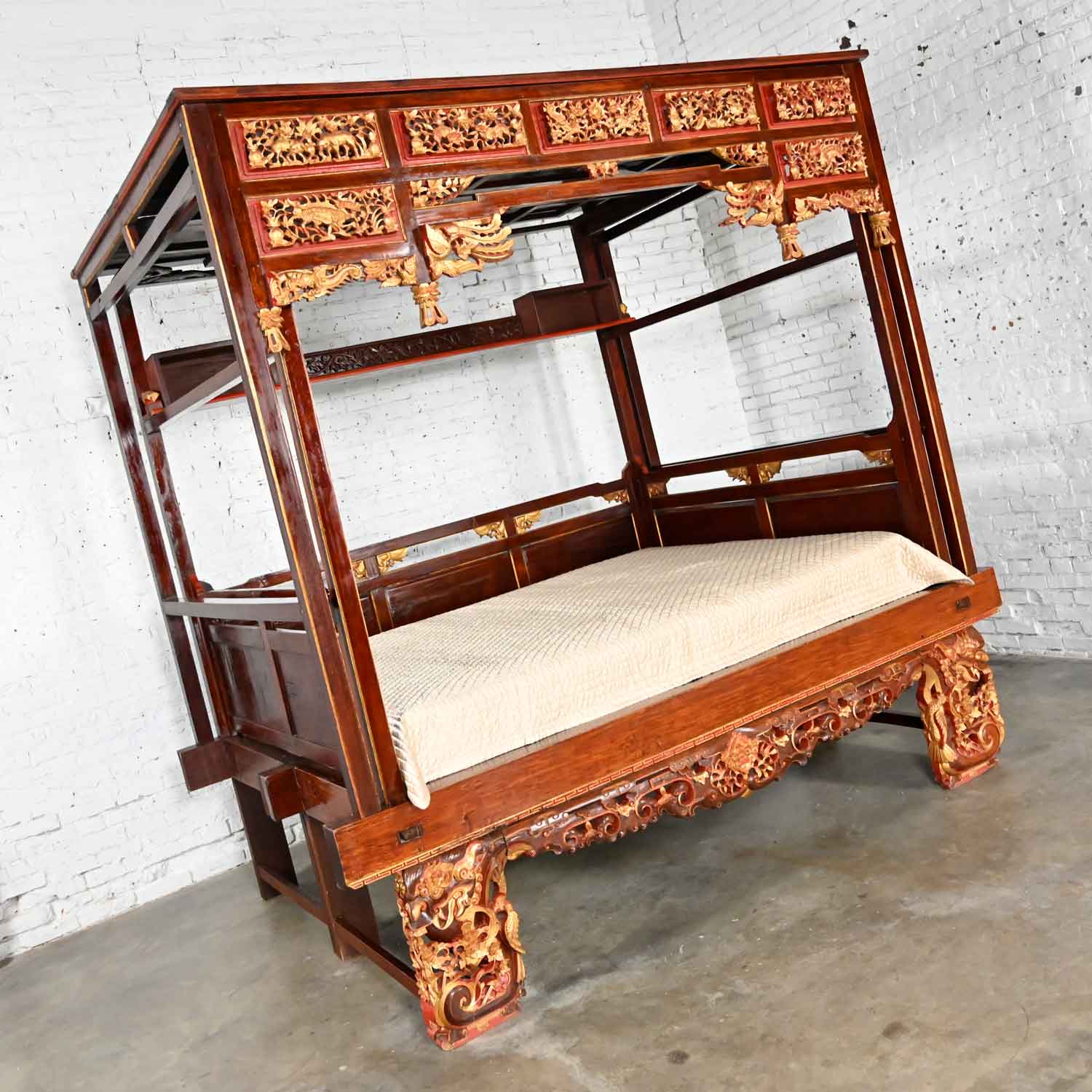 Vintage Chinoiserie Chinese Elm Wedding Opium Canopy Bed Hand Carved Asian Designs Queen Size
Phenomenal vintage chinoiserie Chinese Wedding opium canopy bed comprised of Chinese elm and all-over hand carved Asian gilded designs. It will hold a queen size mattress and is made up of 60+ individual pieces but will be shipped partially assembled. Beautiful condition, keeping in mind that this is vintage and not new so will have signs of use and wear. Its overall age patina, consisting of nicks, dings, scratches, cracks, possible missing details, and wear to finish is considered part of its beauty. We have used the original method of tightening joints for stability, tapered shims. Many are original and we have added more in areas for stability. Please see photos and zoom in for details. We attempt to portray any imperfections. Circa, Mid 19th – Mid 20th Century.
Bed:
O/A Height – 99 Inhes
O/A Width – 99 Inches
O/A Depth – 71 Inches
Deck Height – 22 Inches
Sideboard/Headboard Height from Floor – 48 Inches
Sideboard/Headboard Height from Deck – 26 Inches
Inside Width – 82 Inches
Inside Depth – 67 Inches
Weight – 1096 Pounds
Crated Size:
Height – 76 Inches + 4" Pallet
Width – 105 Inches
Depth – 70 Inches
Weight – 1440 Pounds
There are beds. And then, there are beds that are a work of art… and this Chinese wedding opium canopy bed is an ABSOLUTE ASIAN MASTERPIECE!! This stunning vintage canopy bed originated from China and is comprised of gorgeous Chinese Elm that is embellished with all over hand carved and gilded designs of mythical creatures such as dragons and phoenixes, elephants, Chinese symbols, vines, birds, and flowers. The canopy has an incredible ceiling and when you lie down you are compelled by four fantastic three-dimensional carved dragons surrounded by red painted flames and wings and two more dragons within the boxed sections on the underside of the canopy. It's MAGNIFICENT!! It has two open box shelves in the top back corners with floral carvings on the board between them and the front of the canopy features seven rectangular sections with intricately hand carved and gold leafed unique Asian scenes. Simply breathtaking!! The actual bed frame holds a queen size mattress… sideways. Much like a standard daybed. So, mattress length goes width and width goes length. A rail above the mattress runs on three sides and hosts a gold leaf Asian bird in each corner. LOVELY!! The base is comprised of a hand carved apron with a stylized dragon face in the center surrounded by hand carved leaves and details and two fabulous wide front feet featuring sophisticated hand carvings of dragons, flowers, and an exquisite Phoenix standing on the inside of the foot. Above the base carvings along the footboard is meandering detail in gold leaf. Stunning!! There are just too many gorgeous details to mention them all. Every time I look at it, I see something new and amazing. This Chinese wedding opium canopy bed is the epitome of chinoiserie excellence! It commands the room and demands attention; you can't help but stare in awe! Did you know… Chinese marriage beds are incredibly special pieces of furniture that have a lot of tradition woven into their history. For example, the marriage bed and its linens must be new, and are presented to the engaged couple by the groom's family. The placement of the marriage bed usually occurs one or two weeks before the wedding on an auspicious date often chosen by a feng shui master. After the bed is installed, no adult may sit or sleep on it alone before the wedding, because this might bring bad luck to the bridal couple. Male children are allowed to sit and play in the confines of the bed as a way to ensure the new couple will be fertile with male offspring. As wishes for good luck, happiness, fertility and other good fortune, items such as tangerines, oranges, and symbols of "gold" are placed on the bed for good fortune; while persimmons, or dried red dates bless their union with sweetness… some info from Seattle times. Obviously, it will make an exceptional addition to your Asian style bedroom, but it would also be a wonderful daybed. Maybe you have an Industrial loft or a French flat? This is just what the designer ordered!! This is the perfect bed for those who have a love and admiration for Chinese history, culture, and all its beauty. It is a spectacular piece of furniture with an Asian element unlike any other, and you simply MUST own it!!
Keep in mind warehouse414 items are vintage and not new; they will have signs of use and wear. Please see photos and zoom in for details. We attempt to portray any imperfections.