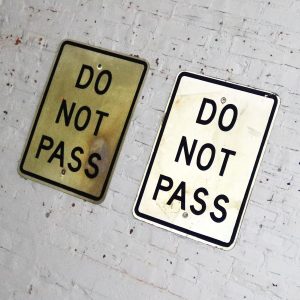 Vintage Do Not Pass Metal Traffic Signs
Do not pass this Do Not Pass vintage traffic sign!!! We have a pair but have priced them separately. They are aluminum and have lots of age patina, so you can tell they are vintage and were really used. You know one (or two) will look fabulous hanging in your rec room, play room, or man cave; but it will be awesome hanging in your kitchen or family room too. And how about your loft space? Dynamite!! So whether you want one or two………..Do Not Pass….. up this urban artifact. Make it yours.
NOTE: We have lots of other traffic signs listed so you could have a whole wall or theme going on! Just go to our storefront here on this website to see all our listings.
Price: $395
SKU: 414-MSC-019
Product Short Description :
Cool vintage Do Not Pass metal traffic signs. We have two offered and have priced them individually. These are in wonderful vintage condition made of aluminum with all the great patina provided from years of use. Select #1 or #2 or both. Circa 20th Century.
Sign:
Height – 24 Inches
Width – 18 Inches
Depth – 1/16 Inches
Weight – 7.2 Pounds Each
Boxed Size (for one):
Height – 25 Inches.
Width – 19 Inches
Depth – 1.5 Inches
Weight – 8 Pounds
Boxed Size (for two):
Height: 25 Inches
Width: 19 Inches
Depth: 2 Inches
Weight: 16 Pounds
Additional Information:
Dimensions: N/A
Weight: N/A
STYLE / PERIOD: Americana, Modern Country, Industrial, Rustic
MATERIALS: Metal
DATE: Circa: 20th Century