Vintage Greyhound or Whippet Bronze Sculpture Medium Size 14 Inch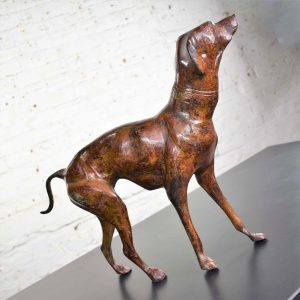 If you are a dog lover (and who isn't?), you will adore this stately statue of one of the oldest of breeds known. The greyhound is even mentioned in the bible. This bronze pet won't need you to take it for a walk but will look wonderful on your mantel. We can't say for sure if this is a greyhound or a whippet, but they are of the same ancestry. A whippet is just a bit smaller (and slower but of course with a sculpture how would we know?!). So, we will let you decide whether it is a greyhound or a whippet…just make it yours!
Price: $595
SKU: WOE-DEC-220
Product Short Description :
Handsome medium size bronze sculpture of a greyhound or whippet. It is in fabulous vintage condition. Please see photos. Circa late 20th century.
Sculpture:
Height – 14.25 Inches
Width – 4 Inches
Depth – 16.75 Inches
Weight – 8.3 pounds
Boxed Size:
Height – 19 Inches
Width – 8 Inches
Depth – 21 Inches
Weight – 18 pounds
Additional Information:
Dimensions: N/A
Weight: N/A
SUBJECT: Dog, Greyhound, Whippet
MEDIA: Bronze Sculpture
DATE: Circa: Mid-Late 20th Century