Selection Required: Select product options above before making new offer.
Error: There was an error sending your offer, please try again. If this problem persists, please contact us.
Vintage Impressionist Painting of Children on Horseback by Brooks Woollcott Powell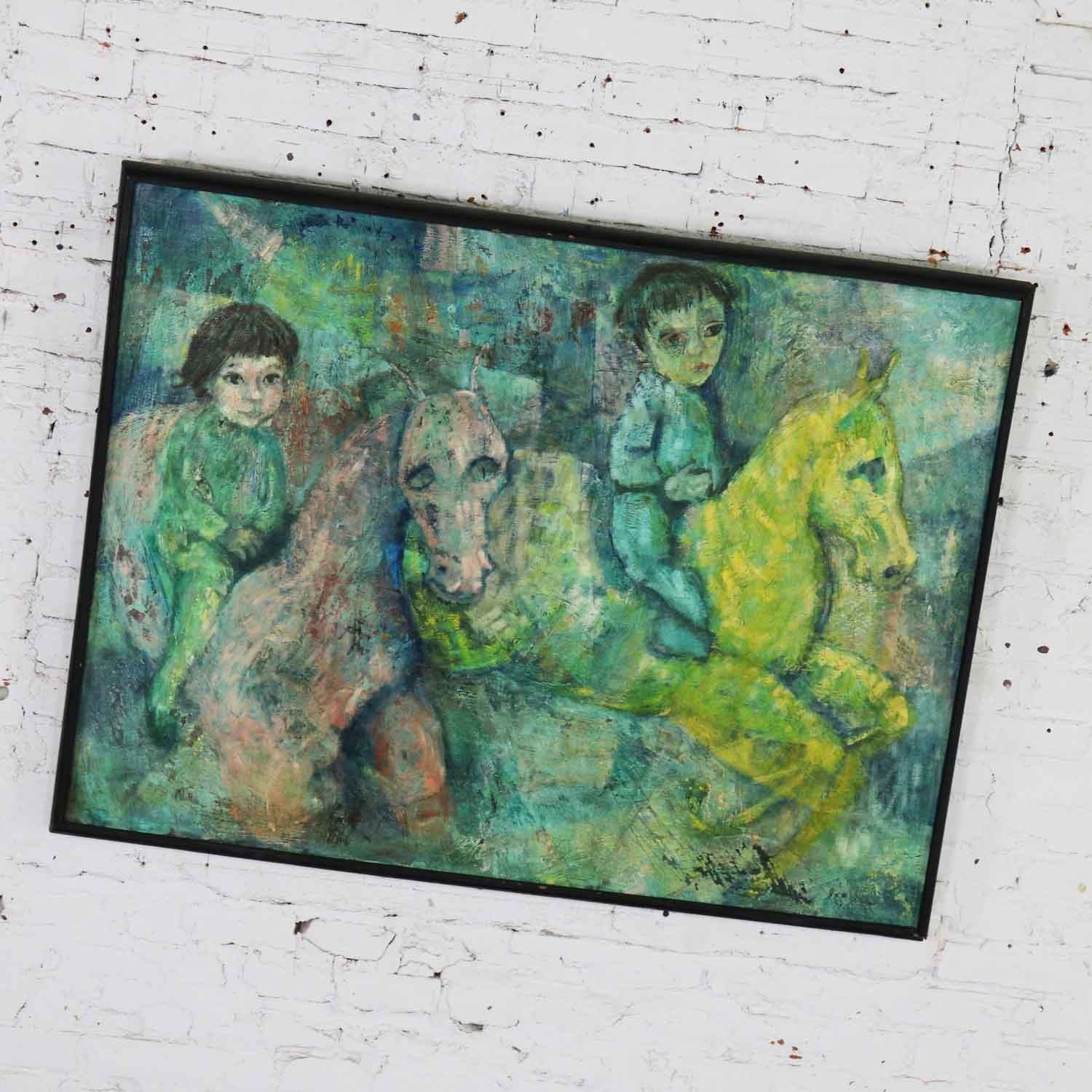 Vintage Impressionist Painting of Children on Horseback by Brooks Woollcott Powell
Incredible impressionist style painting on hardboard of children on horseback signed Brooks Woollcott (now Powell). It is in good original condition with its original black painted wood frame. Since the photos were taken, we have stabilized the frame and added a new coat of paint. Circa 1940-1960s.
Painting:
O/A Height – 37.5 Inches
O/A Width – 49 Inches
Depth – 2.25 Inch
Image Size – 35.5 x 47.5 Inches
Weight – 24.6 Pounds
Boxed Size:
Height – 42 Inches
Width – 54 Inches
Depth – 7 Inches
Weight – 40 Pounds
This original impressionistic painting has the most extraordinary color pallet from pink to coral, turquoise to blue, green to chartreuse, and bright yellow with touches of black. It depicts two children, seemingly a girl and boy, on horseback. It is done in the style of Chagall with a little Picasso and Matisse thrown in. It also has a feel of Margaret Keane and her Big Eyes paintings of the 1950s and 1960s. It is signed on the front lower right corner by Brooks Woollcott (we know now Powell). We cannot see a date on the piece and extensive googling has not found us any information on the artist. Its style and color pallet make us lean toward 1940s to 1960s for age, as does the home where we obtained it. It is in very good vintage condition and we have stabilized the original frame and added a new coat of black paint. However, you may choose to reframe. There is something in this painting that speaks to me. Does it you? Don't hesitate. Make it yours.
ATTENTION! ATTENTION! ATTENTION! I have discovered new information. The artists name is Brooks Woollcott now Powell. She was a Topeka resident at the time of this painting but is currently living in Grand Junction, Colorado. She is still doing lovely paintings and has her own online gallery and is represented by several others. Here is what she said when I contacted her: "I have come a long way since that painting, but I remember it well. My children were young, and I enjoyed the almost nightmarish quality of the merry-go-round. I was a fan of Ray Bradbury whose tales inspired the scariness of inherent  things like a carousel or locomotive. The opportunity to study under a number of artists:  Scott Christenson, Matt Smith, Ralph Oberg and other representational painters pushed me more toward representational art, particularly landscape but I find people good subject matter as well." We have enjoyed looking at her current paintings online and I hope you will too. But we must say, we LOVE this early one. Again, you need to make it yours.
Keep in mind warehouse414 items are vintage and not new; they will have signs of use and wear. Please see photos and zoom in for details. We attempt to portray any imperfections.
Impressionist, Mid-Century Modern