Vintage McGuire Rattan Rolling Game Chairs-Set of Four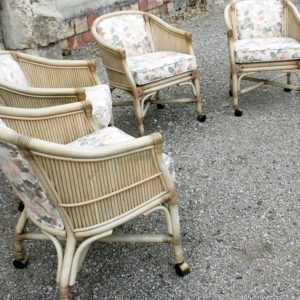 McGuire furniture has long been known for handcrafted designs with style and quality for casual living, and this set of four vintage McGuire rattan game chairs embody it all.  The McGuire legacy will live on with this set of rattan chairs as you pass them down from generation to generation. The rattan and leather wrap has an antiqued champagne colored finish and the original cabbage rose upholstery is in wonderful condition. I can just see you relaxing in this great set of chairs in your sunroom or screened-in porch by the sea or maybe your mountain retreat!
The McGuire sheaf-of-wheat style table, which originally came with these chairs, is also listed here on our website.
Price: $1,995
SKU: 414-SEA-015
Product Short Description :
This set of four McGuire Furniture rattan game chairs are in wonderful vintage condition.  The original cabbage rose upholstery is in perfect shape and the foam is soft. You may buy with confidence.
• Height – 28.75 inches
• Width – 22 inches
• Depth – 24 inches
• Seat Height – 19.25 inches with casters 17 inches
• Weight – 16 pounds 12.6 ounces each
We ask that the buyer cover freight. Please send zip code for a quote to your area: contact 
Additional Information:
Dimensions: N/A
Weight: N/A
MAKER: McGuire
STYLE / PERIOD: Modern
DATE: Circa: Late 20th Century