Vintage MCM Holmegaard Per Lutken Smoke Gray Glass Hellas Vase Signed 1961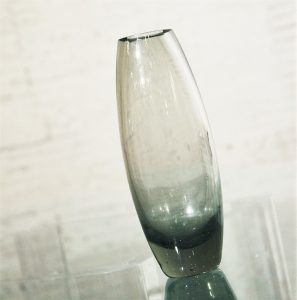 Beautiful and simple. This is the wonderful vintage mid century modern swedish Hellas vase by Per Lutken for Holmegaard. Smoke Gray, signed, dated 1961, and in incredibly great vintage condition. No chips, cracks or chiggers.
Price: $195
SKU: SLO-DEC-007
Product Short Description :
Beautiful and simple Per Lutkin vase for Holmegaard. Smoke gray / grey. In wonderful condition. Signed. Dated 1961.
Height – 9 inches
Width – 3 inches
Depth – 3 inches
Weight – 1.7 pounds each
---
Additional Information:
Dimensions: N/A
Weight: N/A
DESIGNER: Per Lutken
MAKER: Holmegaard
TITLE: Hellas Vase
COUNTRY OF ORIGIN: Denmark
MATERIALS: Art Glass
DATE: Circa: 1961