Selection Required: Select product options above before making new offer.
Error: There was an error sending your offer, please try again. If this problem persists, please contact us.
Vintage Mid-Century Modern Mengel Drop Front Secretary Desk by Raymond Loewy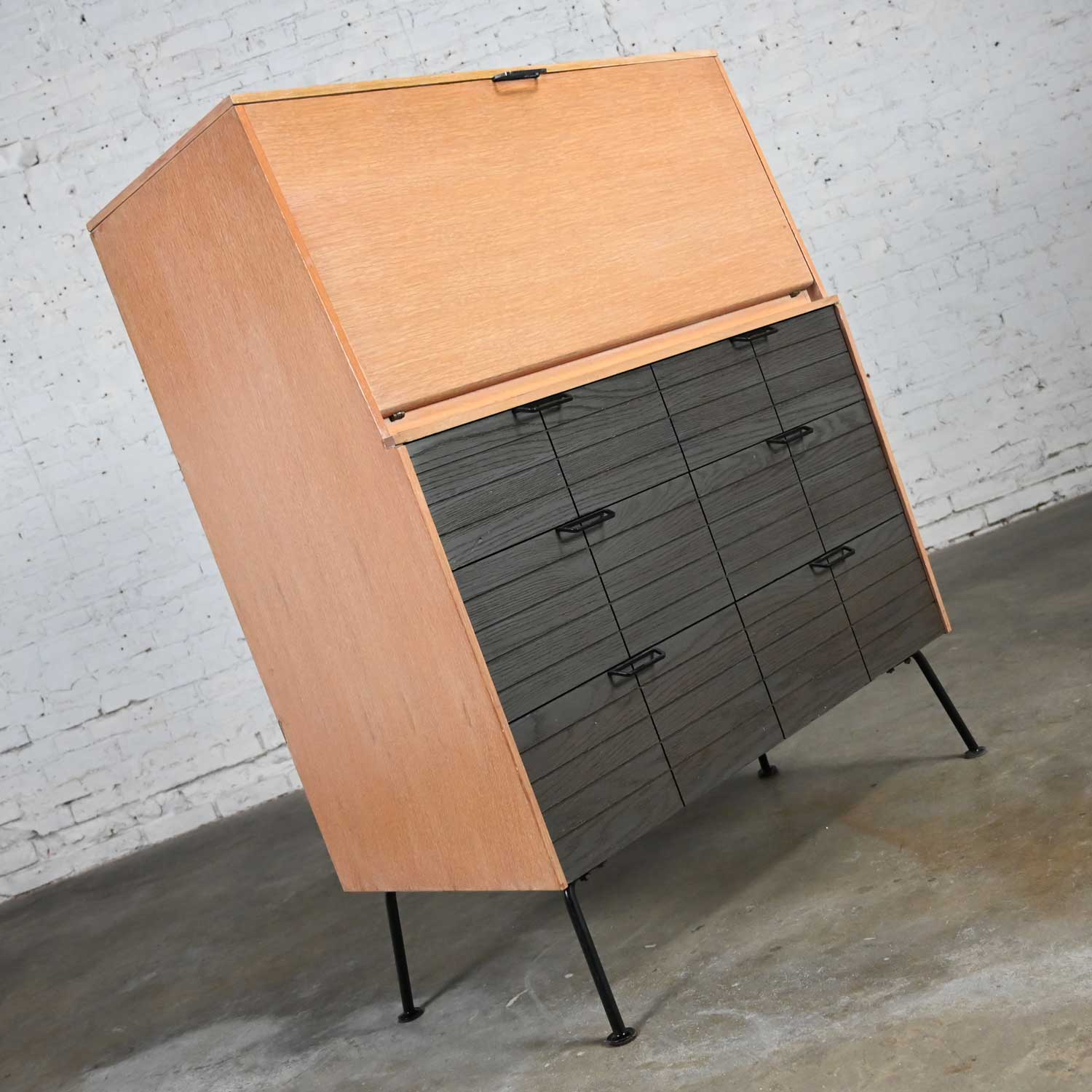 Vintage Mid-Century Modern Mengel Drop Front Secretary Desk by Raymond Loewy
Handsome vintage mid-century modern Mengel drop front secretary desk by Raymond Loewy. Comprised of an oak case, cerused oak drawer fronts, and black iron hardware and legs. Beautiful condition, keeping in mind that this is vintage and not new so will have signs of use and wear. It has been thoroughly cleaned and restored. There were a couple very small veneer patches made on back edges and a scratch in the top touched up and repaired as best could be without refinishing. Please see photos and zoom in for details. We attempt to portray any imperfections. Circa, 1950-1959.
NOTE: If you love this magnificent Secretary Desk or Gentleman's Chest by Raymond Loewy for Mengel we have a matching Telephone Bench listed here for sale if it is still available!
Simple, Stunning, and Superior Style!!! This is a GORGEOUS drop front Secretary desk designed by Raymond Loewy for Mengel!! It is comprised of a limed oak veneer case, an oak veneer drop down door that doubles as a work surface and original light blue painted interior including a cubby and a top drawer with a center divider, 3 large lower drawers with interior dividers and charcoal colored cerused oak drawer fronts, black iron hardware, and straight outward angled black iron legs. IT. IS. FABULOUS!!!!! Obviously, it is going to be wonderful in the study, den, or home office used as a desk, but we also think it would be a great Gentleman's chest or cabinet. Use the bottom drawers for clothing, blankets, or larger items and behind the drop-down door is a perfect place for watches, jewelry, and other accessories. There is tons of storage space for all of your de-clutter needs! This desk has the handy feature to fold away and hide your mess! Just fold up the tabletop and you have a gorgeous free-standing cabinet and no mess! It's like having your office in a box so it would work perfectly for smaller rooms, apartments, or lofts.
C.C. Mengel formed the Mengel Furniture Co. sometime following the Civil War in Louisville, Kentucky. In addition to household furnishings, they also produced wooden washing machines and boxes in various sizes. In order to ensure an adequate supply of lumber they operated mills in Belize, British Honduras, and Arizona. C.C. Mengel Jr. and C.R. Mengel took over the firm at the turn of the 20TH century, which was now called C.C. Mengel & Brothers Co. At the time it was the country's largest manufacturer of wooden boxes. New product lines appeared in the early twentieth century including the very popular Mengel Playthings line of wooden toys. Their primary products were wooden wagons, tricycles, and wooden slides. Mengel had also been supplying automakers with wooden components since the erection of the Ford Motor Company's Louisville assembly plant and Monroe convinced the firm's directors to build a new facility to supply similar products to additional manufacturers. In 1924 Mengel took out a license to manufacture Meritas-clad composite bodies using Kenneth L. Childs patents for the Louisville Ford distributor. Their town car bodies were marketed as an upscale alternative to the standard Model T and were available with a Rolls-Royce-style radiator. They also offered a line of commercial bodies and are one of the known body builders for the US Postal Service. The disappearance of the composite body ended Mengel's work for Ford and other automobile manufacturers. The firm chose to concentrate on their successful door and furniture business which included some beautiful art-deco radio cabinets for Philco. Following the war, they started manufacturing doors and windows for the growing construction industry and also built a popular line of home furnishings, bedroom sets, dining room sets, and living room furniture. They were purchased in 1956 by the Kroehler Manufacturing Co. who slowly eliminated their furniture line, electing to concentrate on their popular doors and windows. -coachbuilt
Raymond Loewy, an iconic French American designer who was dubbed "the father of industrial design," had many well-known projects; and over his career span he consulted with over two hundred companies, leaving his mark in the design world. Some of his most notable achievements include the popular Shell, Exxon, BP, and TWA logos; a Greyhound bus; an S-1 locomotive; the Lucky Strike cigarette package; the Coldspot refrigerator for Sears; the Avanti for Studebaker; plus, designs for Harley Davidson and Coca Cola. He also designed NASA Skylab, the Airforce One livery, and the John F. Kennedy memorial postage stamp, among other notable items. From products such as furniture to public transportation Raymond Loewy took pride in making what he called "the mundane side of the 20th Century more beautiful." He worked for Mengel from 1950 to 1959. Notably Raymond Loewy was featured on the cover of TIME magazine in October 1949 and in 1975 the Smithsonian Institute opened "The Designs of Raymond Loewy," a four-month exhibition dedicated to his life's work and achievements. Mr. Loewy passed away in 1986.
Iconic Designer and manufacturer, versatility, high quality, and superior style. This magnificent secretary desk has it all. You know you want it, just make it yours!
Keep in mind warehouse414 items are vintage and not new; they will have signs of use and wear. Please see photos and zoom in for details. We attempt to portray any imperfections.
Mengel Permanized Furniture
•Height: - 47.25 Inches •Width: - 36 Inches •Depth: - 19.25 Inches •Distance from Floor to Bottom – 8 Inches •Drop Front Size – 15.5 x 35 Inches •Worktop Height – 29 Inches •Weight: - 135.7 Pounds
Crated Size: •Height: - 53 Inches •Width: - 42 Inches •Depth: - 25 Inches •Weight: - 300 Pounds
1stDibs, Chairish, EBay Collective