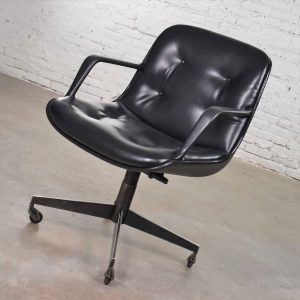 Vintage Modern Black Vinyl Faux Leather Steelcase 451 Office Chair Style Pollock for Knoll
This is the office chair you have been waiting and looking for. Black…check! Chrome…check! Comfy…check! Durable…check! Swivels…check! Rolls…check! Beautiful…check! Affordable…check! This awesome and handsome swiveling rolling office armchair is, although unmarked, the 451-office chair by Steelcase. It is made in the style of the Charles Pollock office chair for Knoll. Comprised of a bucket style seat covered in black vinyl faux leather with button detail, a black molded plastic chair back, black plastic arms, and chrome trim on a blackened chrome four prong base with casters. Wow! Everything you need. It will be awesome in your mid-century modern home or equally as nice in an industrial loft or modern country ranch house. You only need make it yours!
Price: $795
SKU: BEL-SEA-303
Product Short Description :
Handsome black vinyl faux leather modern Steelcase 451 office chair on casters in the style of the Charles Pollock tilt, swivel, and rolling office chair for Knoll. It is in wonderful vintage condition with no outstanding flaws only normal wear for its age. Please see photos. Circa 1970s-1980s.
Chair:
Height Tallest Adjustment – 37.5 Inches
Width at Arms – 26 Inches
Width at Base – 24
Depth – 24 Inches
Seat Height – 21 Inches
Arm Height – 28.5 Inches
Inside Seat Width – 20 Inches
Inside Seat Depth – 18 Inches
Inside Back Height – 18 Inches
Weight – 37.8 Pounds
Boxed Size:
Height – 43 Inches
Width – 30 Inches
Depth – 30 Inches
Weight – 55 Pounds
Additional Information:
Dimensions: N/A
Weight: N/A
STYLE / PERIOD: Modern
MAKER: Steelcase
IN THE STYLE OF: Charles Pollock, Knoll
LINE/COLLECTION: Steelcase 451 Office Chair
DATE: Circa: 1970s, 1980s