Selection Required: Select product options above before making new offer.
Error: There was an error sending your offer, please try again. If this problem persists, please contact us.
Vintage Modern Bulldog Armed Side Chairs by McCoy & Fahnstrom for Knoll Black Cantilever Base Blue Fabric Set of 12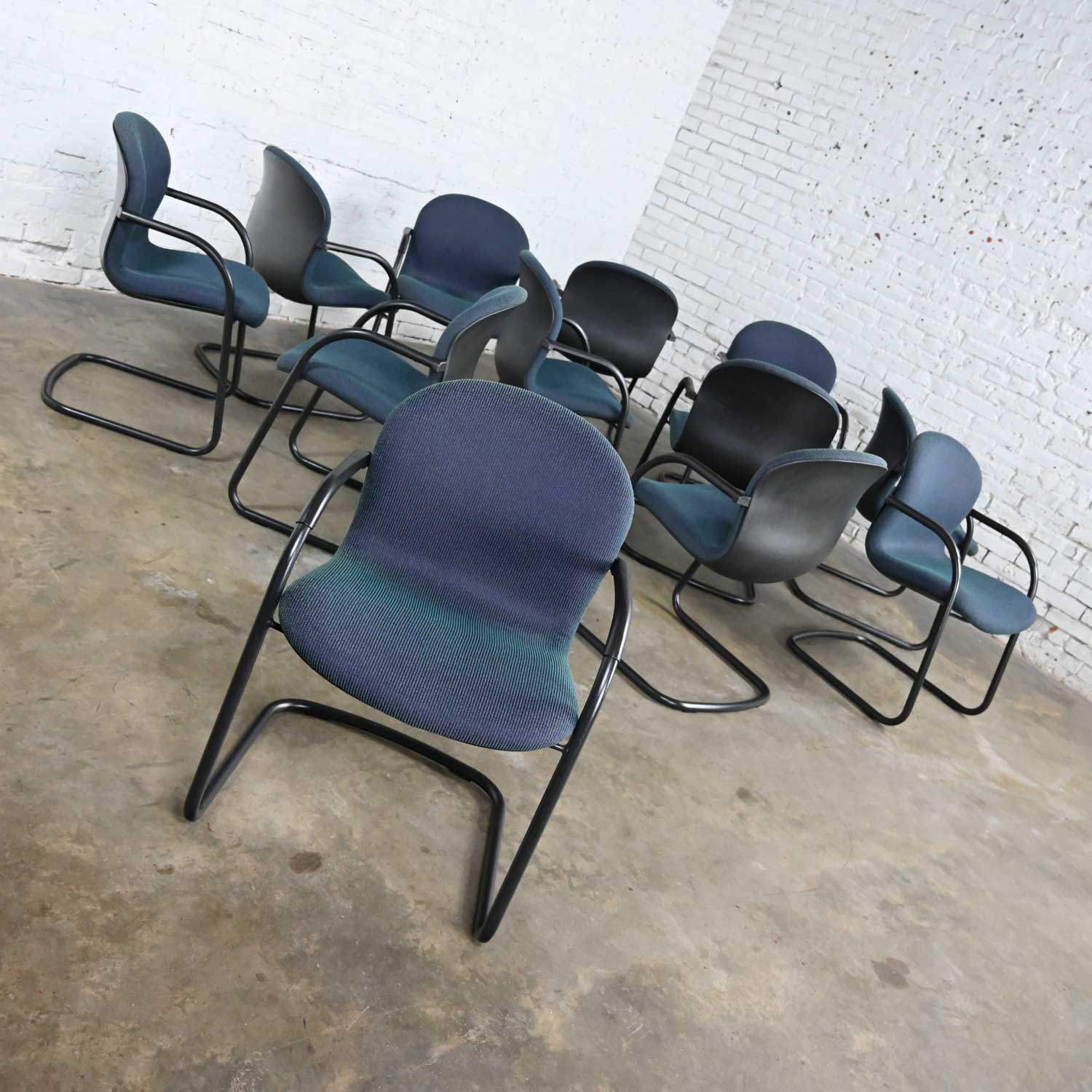 Vintage Modern Bulldog Armed Side Chairs by McCoy & Fahnstrom for Knoll Black Cantilever Base Blue Fabric Set of 12
Handsome vintage Modern discontinued Bulldog Armed Side Chairs by Michael McCoy & Dale Fahnstrom for Knoll with black cantilever bases and blue fabric 12 total. Beautiful condition, keeping in mind that these are vintage and not new so will have signs of use and wear. There are minor scuffs on all frames and arms. Please see photos and zoom in for details. We attempt to portray any imperfections. Circa, 6/23/2000.
NOTE: We are selling these chairs as a set however, if you love them and would like fewer, we may consider entertaining that request. Just let us know.
Doughnuts, Roses, Cookies, Eggs, and these Awesome Knoll armchairs… Just a few things that are better by the DOZEN! That's right! We have TWELVE of these wonderful Bulldog Armed side chairs by Knoll for you!! They were designed in 1990 by award winning designers Michael McCoy & Dale Fahnstrom and discontinued in 2009. These are labeled 6/23/2000. They are comprised of black finished steel cantilever frames with black plastic arm covers, molded plastic scoop-back seats, and they wear a fabulous blue nubby textured fabric. They have an ergonomically thought-out design, ensuring comfort and timeless style sure to withstand the hands of time. They are ready to grace your home or office with their iconic awesome-ness! Of course, they would be perfect surrounding a fabulous conference table at the office, but they would also be wonderful at a dining table in your Modern dining room, at a game table in the family room, or maybe you need extra seating for times you encounter those unexpected guests? Comfort, Style, Versatility, two AWARD WINNING designers, and they're by Knoll… an exemplary manufacturer.  These chairs have everything you've been looking for.
As a designer, Michael McCoy is best known for his work with furniture manufacturer Knoll International. Along with Dale Fahnstrom, Fahnstrom/McCoy Design Consultants designed the 5-time award-winning Bulldog chair. The Bulldog is Knoll's best-selling office chair to date. Michael McCoy along with his wife Katherine McCoy was the recipient of the Smithsonian's first Design Minds National Design Award. His designs include the Horizon LED Light for Humanscale with Peter Stathis, the million selling "Bulldog Chair" for Knoll and the Place Airport Seating for Arconas with Curt Fentress. He has received many international design awards for his work for Humanscale, Knoll, Philips, Steelcase and NEC including Germany's Red Dot Award, the IDSA Gold Award, The Spark Award, London's FX Award, the ID Magazine Best of Category, the IBD Award and The Interiors Magazine Best Office Design. He was principal in McCoy & McCoy Inc. in Colorado and Fahnstrom/McCoy Design Consultants in Chicago, he was Co-chair of the Design Department at Cranbrook Academy of Art for 23 years. His strategies for interpreting technology and information through design form have been widely published and he lectures internationally on the subject.
Dale Fahnstrom graduated with a BFA and MFA in Industrial Design, in 1962 and 1965, from the University of Illinois, Champaign. Early in his career Fahnstrom was product designer for Unimark International. He co-founded the Chicago design firms Source, Inc. and Design Planning Group, and designed products for firms such as Knoll International, Philips Electronics N.V., Steelcase, Brayton International, Vecta Contract, and NEC Technologies, Inc. His Bulldog Chair, designed with Michael McCoy and introduced in 1990 by Knoll, was the largest-selling seating product in the manufacturer's line throughout the 1990s. Both his individual work and projects through his partnership in Fahnstrom/McCoy won numerous design awards including a Best of Category Industrial Design Excellence Award. Mr. Fahnstrom passed away in 2018.
We can think of a DOZEN reasons you need these FABULOUS discontinued Bulldog Armed Side chairs designed by famed Michael McCoy and Dale Fahnstrom for Knoll… what are you waiting for? Make them yours!!
Keep in mind warehouse414 items are vintage and not new; they will have signs of use and wear. Please see photos and zoom in for details. We attempt to portray any imperfections.
Chairs Size: Height – 33 Inches Width – 23 Inches Depth – 23 Inches Seat Height – 19.5 Inches Arm Height – 25 Inches Inside Seat Width – 20 Inches Inside Seat Depth – 16.5 Inches Inside Back Height – 15.5 Inches Weight – 26.7 Pounds Each
Boxed Size: Height – 80 Inches Width – 52 Inches Depth – 52 Inches Weight – 625 Pounds
1stDibs, Chairish, EBay Collective