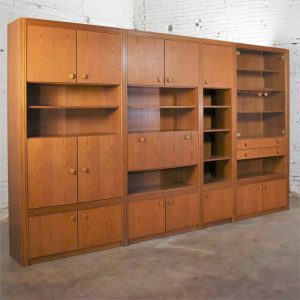 Vintage Modern Oak 4 Section Modular Wall Unit from the Lord Series by Kämper Intl
What an awesome piece of modular furniture! Created in 1974 so it's on the edge of mid-century modern to modern design and made in Germany with a very Scandinavian Modern flair. It is comprised of four sections; three wide and one narrow and finished in oak veneer. Each section has a panel that separates the individual units and each of the two ends have a panel. The sections can be configured in any order you desire. Plus, it all breaks down for moving or shipping. All the modular units have a combination of storage and display space. One of the units has a drop front bar! And another of the units has a pair of shallow drawers for silverware and cutlery (or whatever) along with a lighted display having three shelves and glass doors. The flat round oak knob pulls are simple and just the right adornment for this gorgeous wall cabinet. Not only will this be fabulous in a living room, dining room, or study; but I can imagine it as part of a beautiful kitchen. You need to make this set yours!
Price: $3,995
SKU: 414-CSG-109
Product Short Description :
Handsome and versatile Scandinavian Modern style oak four section modular wall unit from the Lord series by Kämper Anbaumöbel. It is in wonderful vintage condition. Not without signs of age but nothing outstanding. There are a couple repairs which have been made to bring it back to this wonderful condition. Please see photos. Circa 1974.
NOTE: We also have its original brochure from Germany. We will include it with the unit.
Cabinets:
O/A Height – 88.75 Inches
O/A Width – 149.5 Inches
O/A Depth – 16 Inches
Size of Wide Units Each – 88.75 H x 39.5 W x 16 D Inches
Size of Narrow Unit – 88.75 H x 20.25 W x 16 D Inches
Weight – 768.3 Pounds All
Crated Size:
Height – 95 Inches
Width – 85.5 Inches
Depth – 38 Inches
Weight – 1168.3 Pounds
Additional Information:
Dimensions: N/A
Weight: N/A
MAKER: Kämper Anbaumöbel
LINE/COLLECTION: Lord Series
STYLE / PERIOD: MId-Century Modern, Scandinavian Modern
MATERIALS: Fiberboard, Mirror Glass, Glass, Oak, Veneer
COUNTRY OF ORIGIN: Germany
DATE: Circa: 1974