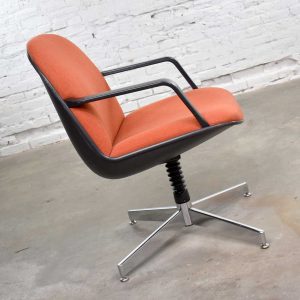 Vintage Modern Orange Fabric Hon Armchair Style of Charles Pollock for Knoll
Wow! I love this chair. I love the color. I love its style. I love how versatile it is. And how comfy. This awesome and handsome adjustable height armchair is made by the HON company. It is made in the style of the Charles Pollock office chair for Knoll and comprised of a bucket style seat covered in fabulous orange hopsacking, a black molded plastic chair back, black plastic arms, black rubber ribbed adjustable shaft, and chrome four prong base. Too cool! Just what you need for your home office or as an extra seat in your living or family room; whether you have a mid-century modern home, an industrial loft, modern country, or mountain ranch. Just make this great chair yours!
Price: $695
Product Short Description :
Handsome orange hopsack fabric covered armchair with adjustable height in the style of the Charles Pollock chair for Knoll. It is in wonderful vintage condition with no outstanding flaws and only normal wear for its age. Please see photos. Circa 1970s-1980s.
Chair:
Height – 33.5 Inches
Width – 24 Inches
Depth – 26.5 Inches
Seat Height – 18.5 Inches
Arm Height – 25 Inches
Inside Seat Width – 20 Inches
Inside Seat Depth – 18.5 Inches
Inside Back Height – 18 Inches
Weight – 35 Pounds
Boxed Size:
Height – 39 Inches
Width – 30 Inches
Depth – 32 Inches
Weight – 55 Pounds
Additional Information:
Dimensions: N/A
Weight: N/A
MAKER: HON
IN THE STYLE OF: Charles Pollock, Knoll
COUNTRY OF ORIGIN: United States
MATERIALS: Fabric, Metal, Plastic
DATE: Circa: 1970s, 1980s