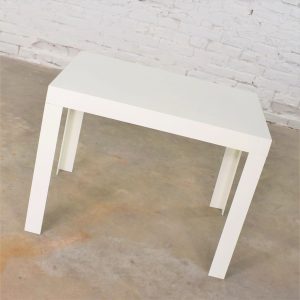 Vintage Modern White Molded Plastic Rectangular Parsons Style Side Table Style Syroco or Kartell
Awesome outdoor furniture is sometimes hard to find, and this table would be perfect for that! But you do not have to relegate it to only outside. It would be equally as cool inside. It is rectangular in shape and comprised of white molded plastic made in a Parsons style with removable legs…just in case you would like to store it in the winter. Although not marked, except for the care instruction label on the bottom, we believe this to be by Syroco. It is at least in their style and that of Kartell. There is no end to the list of possibilities of where this can be used. Sometimes you just need a light portable versatile table with lots of style to move around freely. Make it yours!
Price: $695
SKU: BEL-TBL-197
Product Short Description :
Great modern rectangular molded white plastic Parsons style side table in the style of Syroco and Kartell. It is in wonderful vintage condition with normal signs of age including some fading or yellowing and small scratches. Please see photos. Circa 1970s.
Table Size:
Height – 21 Inches
Width – 28 Inches
Depth – 20 Inches
Weight – 7.9 Pounds
Boxed Size:
Height – 9 Inches
Width – 35 Inches
Depth – 26 Inches
Weight – 20 Pounds
Additional Information:
Dimensions: N/A
Weight: N/A
STYLE / PERIOD: MId-Century Modern, Modern
IN THE STYLE OF: Kartell, Syroco
MATERIALS: Plastic
DATE: Circa: 1970s