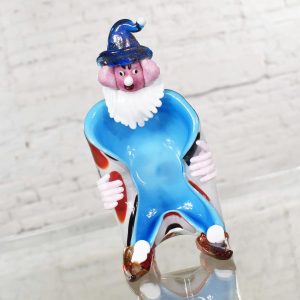 Vintage Murano Venetian Glass Clown Dish Mid Century Modern
I could not wait to offer this jaunty little fellow. He just makes me smile. And we need a little of that in our lives. Don't we? This guy has his original Murano Venetian glass sticker on is bottom but…it is unreadable, so we are not sure of the maker. However, he has so many incredible details it had to be an experienced glass house. He is comprised of a dish as his body which is a gorgeous shade of turquoise blue in front, or the inside of the dish, and cased in white with large black and red polka dots on the reverse, or underside. His hands and ruffled collar are in white with minute detail. The hands have individual fingers, a sign of an early original clown. His big clown shoes are pointy toed clear red glass with gold leaf and his hat is bright clear blue with the aventurine gold leaf as well. Laying on his back he is a cute and interesting vide-poche dish but stand him on his feet on a higher shelf and he will look down upon you with his big clown nose and fluffy hair (or are those big clown ears??) He is sure to bring joy to wherever you display him. You must make this jolly little guy your own.
Price: $495
SKU: 414-DEC-239
Product Short Description :
Awesome example of mid-century modern vintage Murano Venetian glass in this adorable clown dish. It is in excellent condition with no chips, cracks, or chiggers. It does have a very worn maker's sticker on its bottom that is not readable. There are shelf scratches on bottom as well denoting age. Please see photos. Circa mid-20th century.
Clown Size Laying on Back:
Height – 3.75 Inches
Length – 8.25 Inches
Depth – 4 Inches
Weight – 1.8 Pounds
Boxed Size:
Height – 10 Inches
Width – 14 Inches
Depth – 10 Inches
Weight – 5 Pounds
Additional Information:
Dimensions: N/A
Weight: N/A
STYLE / PERIOD: MId-Century Modern
COUNTRY OF ORIGIN: Italy
MATERIALS: Venetian Glass, Italian Murano Glass
SUBJECT: Clown
DATE: Circa: Mid-20th Century