Selection Required: Select product options above before making new offer.
Error: There was an error sending your offer, please try again. If this problem persists, please contact us.
Vintage Original Large Scale Parrot Painting by P. Charles with Dark Grooved Wood Frame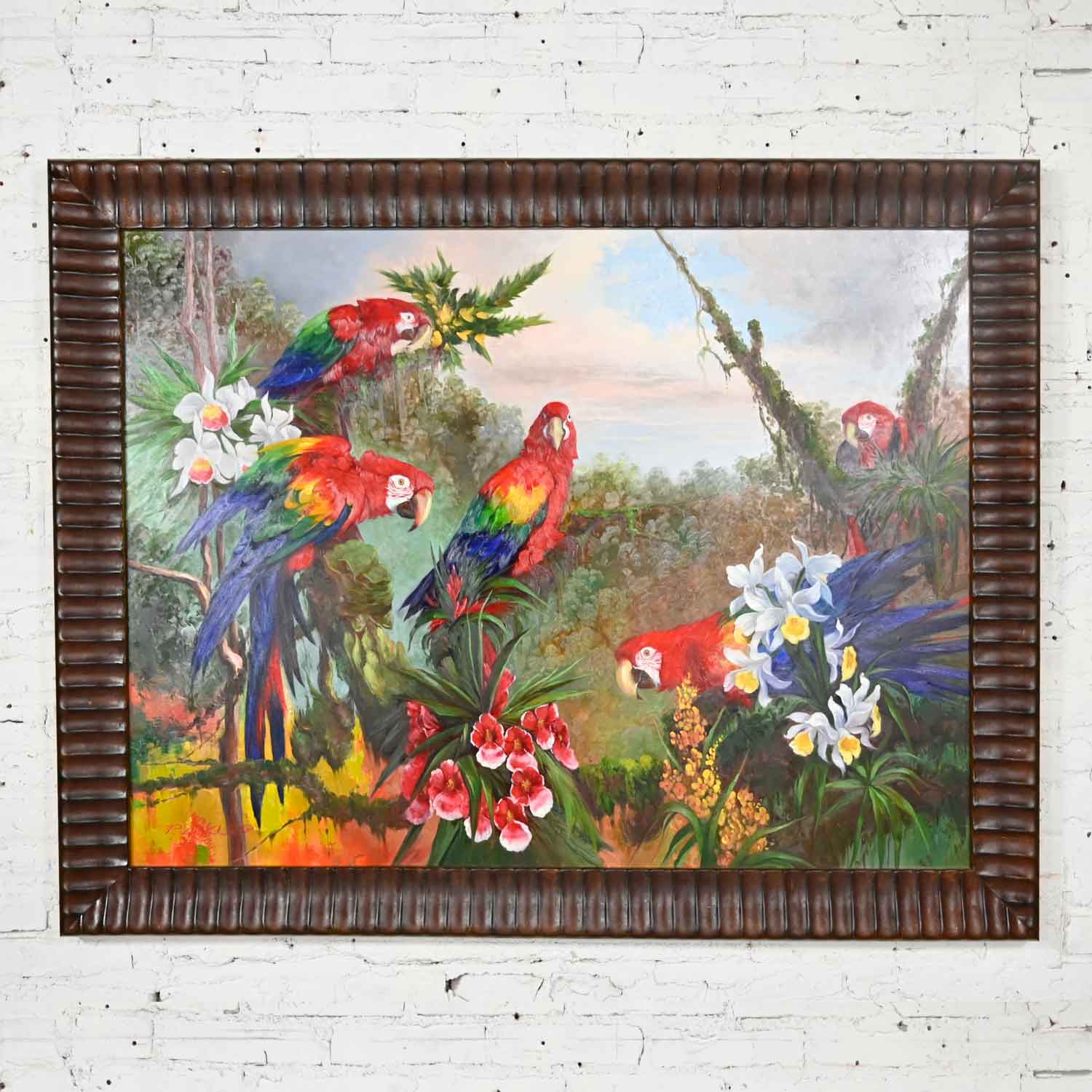 Vintage Original Large Scale Parrot Painting by P. Charles with Dark Grooved Wood Frame
Fabulous vintage original large scale parrot painting by P. Charles with a dark grooved wood frame. Beautiful condition, keeping in mind that this is vintage and not new so will have signs of use and wear. Please see photos and zoom in for details. We attempt to portray any imperfections. Circa, April 20th, 2004
Art:
Piece Size Showing @ Mat – 43.5 Inches
Art Size – 35.5 x 47.5 Inches
Framed Size –55.5 Inches
Framed Depth – 1 Inches
Weight – 22.4 Pounds
Boxed Size:
Height: 50 Inches
Width: 62 Inches
Depth: 8 Inches
Weight: 35 Pounds
Do you hear that??? Chitter chatter and a little chirping and squawking blended into what sounds like a full-on serious conversation… among parrots. I can hear them clearly, but am I imagining this or am I dreaming? It's a bit foggy and the air feels wet and warm and there's an awkward smell of what seems to be a blend of tropical fruit, rain, and the zoo. Ahhhh, the wonders of nature in the tropical rainforest. But what am I doing here and why are those parrots gathered together? Are they just enjoying their surroundings of hibiscus and fresh tropical décor or maybe they're sharing a breakfast of berries and beetles? What are they talking about? I must know so; I follow the chatter and I work my way through the damp shrubbery and heavy leaves which take me off the path. In the distance I hear the chuckling of baboons and a single deep roar of what sounds like a cranky large cat. I probably shouldn't be here, and I definitely shouldn't wander from the path… but now it's too late and I MUST know what those parrots are talking about! I'm getting closer as their chatter gets louder and faster as if to tell each other "Here it comes!" They're behind this brush!! I feel nervous as butterflies take over my stomach and I spread apart the thick, damp brush and THERE THEY ARE! Gorgeous in their bold stances, covered in outfits of beautiful rainbow-colored feathers. They look irritated…. and as if they were expecting me. Are they talking about ME? They are! And they're staring at me! Right through my soul. Then, suddenly, the parrot in the middle says… "You're doing it again… WAKE UP!" So obviously I do… Gosh! Rude little parrot!!  So much for a peaceful daydream!! That's one way to look at this large-scale masterpiece created by P. Charles!! It's FANTASTIC! And at 43.5 x 55.5 x 2 it's almost life-sized! And the bright, bold colors and intricate strokes bring this beauty to life! The painting is surrounded by a beautiful wide grooved wood frame with a dark finish, and it is phenomenal! This piece has so much character and color, it will look fabulous in any room you choose and will blend in beautifully with any décor style. Whether you love nature, parrots, or just realistic images of a tropical paradise… this painting is exactly what you've been looking for.
From an early age P. Charles enjoyed depicting animals. He was a painter in the Air Force and continued to paint in his professional career, even after he lost his left arm in an accident earlier in his life. P. Charles creates original oil paintings that are known for their bright colors and bold brushstrokes. Many of his paintings portray farm animals, such as cattle and pig: his cattle subjects being particularly popular. His paintings are inspired by the works of Bob Ransley and respectfully reminiscent of Post-Impressionist and Fauvist painters like Gaugin and Matisse. He achieves vibrant animal portraits from majestic horses to ornery roosters and everything in between. He uses lush, bright colors, thick palette knife strokes, and the three-dimensional quality of his work produces a highly realistic effect. P. Charles currently has work displayed in collections all over Canada, South America, and the U.S. and has continued to exhibit at Art Expo since 1996. -Gallery 505
We fell in LOVE with this gorgeous parrot painting by P. Charles. These five fabulous, feathered friends are sure to steal your heart. What are you waiting for? You simply MUST make it yours!!
Keep in mind warehouse414 items are vintage and not new; they will have signs of use and wear. Please see photos and zoom in for details. We attempt to portray any imperfections.