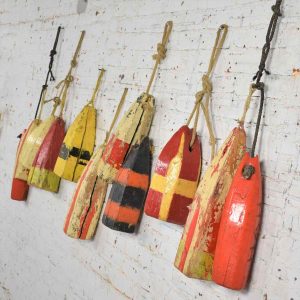 Vintage Painted Wood Authentic Lobster/Crab Trap Buoys Maritime Nautical Décor Set 11
Buoy! Are you gonna love these!! (Sorry, I couldn't help myself.) We have put together a few maritime and nautical décor items this week in our offerings just for your lake shore or seaside  home. This listing is for a set of eleven very very cool hand carved wood lobster or crab trap buoys. (Even though we have listed these as a set…if you are dying for specific ones…we might entertain offers.) Did you know each fisherman usually has his own color or design painted on his buoys so they can tell whose traps are whose? I did not until I researched these awesome treasures. This set will be an incredible display wherever. We have photographed them hanging on the wall a couple ways we think they look good, but I am sure you can think of many more interesting and fun uses. Just make them yours!
Price: $1,495
SKU: 414-DEC-236
Product Short Description :
Awesome set of eleven (11) authentic wood lobster or crab trap buoys. Each is painted with their own individual design and will make wonderful maritime nautical décor. They are in wonderful vintage condition with lots of great age patina including pealing paint, chips, and cracks. Please see photos. Circa early to mid-20th century. Priced as a set of 11.
NOTE: Although we have these priced as a set of 11, we will entertain offers on singles, pairs, or sets.
Average Buoy Size:
Height – 12-18 Inches
Width – 4.5-6 Inches
Depth – 4.5-6 Inches
Weight – 36.9 Pounds All
Boxed Size:
Height – 22 Inches
Width – 24 Inches
Depth – 24 Inches
Weight – 48 Pounds
Additional Information:
Dimensions: N/A
Weight: N/A
STYLE / PERIOD: Coastal Style, Maritime, Nautical
MATERIALS: Paint, Wood
DATE: Circa: Early to Mid 20th Century