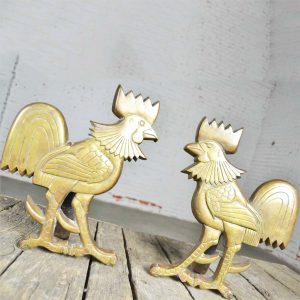 Vintage Rooster Andirons Solid Brass
You will be the "cock of the walk" with these vintage rooster andirons! Each sporting a stately comb, wattle, and spurs any rooster would be proud to own. Not to mention their fabulous tail feathers. Cast in solid brass with a perfect age patina and generous in size these boys will look awesome in your fireplace. Or, just sit them on a mantle or display shelf for drama! Each rooster has his own distinct design character, take note of their differences. They just make me smile. Make them yours to brighten your day.
Price: $2,495
SKU: 414-MSC-003
Product Short Description :
Awesome pair of solid brass figural rooster andirons. Each has its own individual design. In wonderful vintage condition with great patina.
Each Rooster:
Height – 16 Inches
Width – 12.5 Inches
Depth – 6.5 Inches
Weight – 13.3 pounds each
Crated Size:
Height – 18.5 Inches
Width – 16.5 Inches
Depth – 15.5 Inches
Weight – 70.6 pounds
Additional Information:
Dimensions: N/A
Weight: N/A
STYLE / PERIOD: Art Deco, MId-Century Modern
MATERIALS: Brass
SUBJECT: Rooster
DATE: Circa: Early 20th Century, Mid-20th Century