Vintage Tribal Carved Wood Figural Bookends Heads Only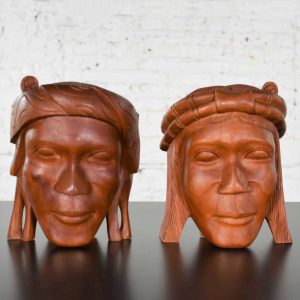 If you are looking for unique bookends to hold your favorite book collection…look no further. This beautiful hand carved native art will do it well. We have seen many pairs of tribal figural bookends but these with the head and face only are very unusual. From their lovely serene features, we assume they are male and female. If you are not a bibliophile don't despair this pair doesn't need books to look gorgeous on your shelves. They can stand alone as a fine piece of sculpture. Just make them yours.
Price: $495
SKU: 414-DEC-204
Product Short Description :
Handsome pair of tribal figural carved wood head bookends. They are in awesome vintage condition. Please see photos. Circa mid-20th century.
Bookends:
Figure One – 7.75 H x  6.5 W x 3.75 D Inches – 3.3 Pounds
Figure Two – 7.75 H x 6.25 W x 3.75 D Inches – 2.8 Pounds
Boxed Size:
Height – 11 Inches
Width – 10 Inches
Depth – 13 Inches
Weight – 8 Pounds
Additional Information:
Dimensions: N/A
Weight: N/A
STYLE / PERIOD: Tribal
MATERIALS: Hand Carved Wood
DATE: Circa: Mid-20th Century