Selection Required: Select product options above before making new offer.
Error: There was an error sending your offer, please try again. If this problem persists, please contact us.
Pair of Vintage Mid-Century Modern Couroc of Monterey Black Trays Cats & Butterflies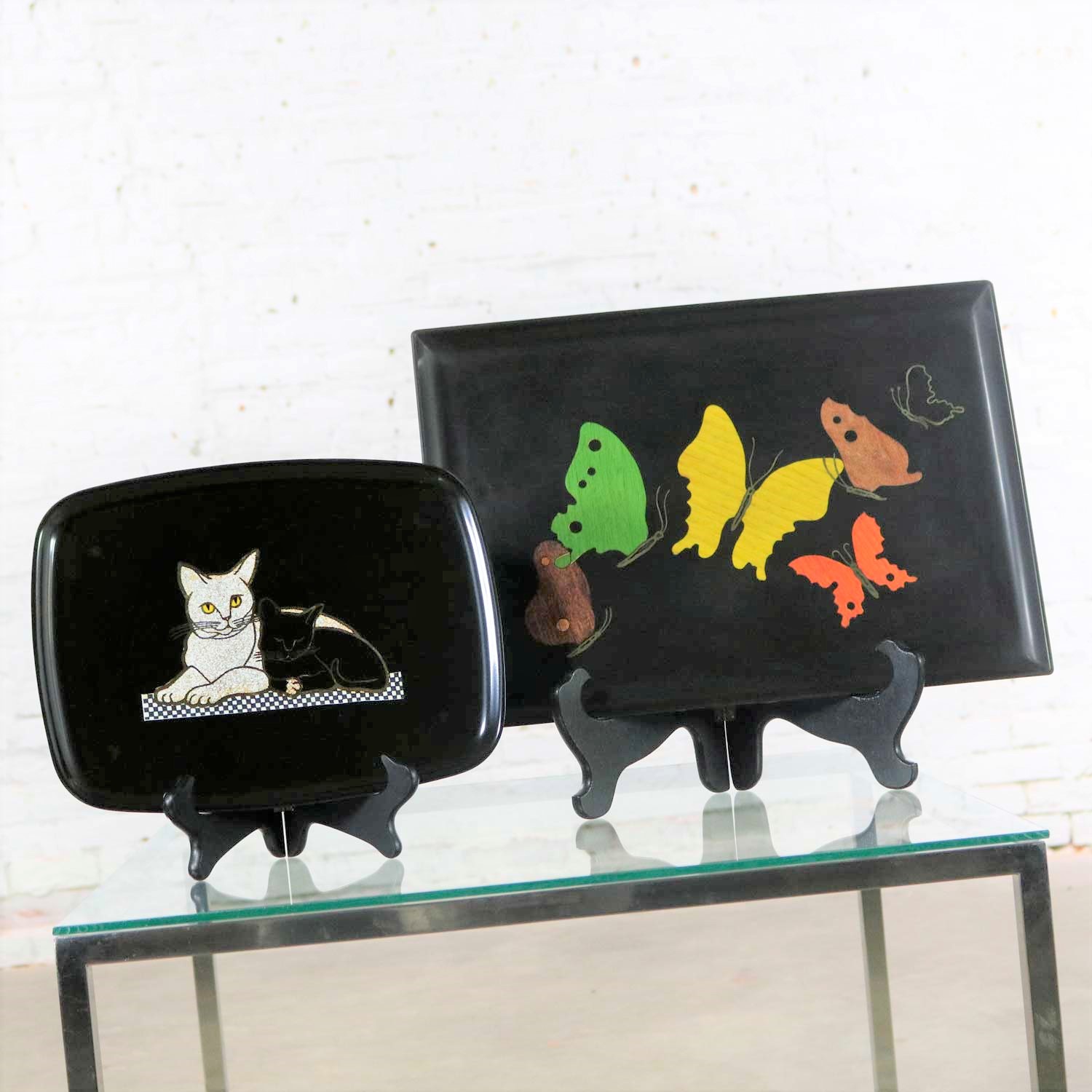 Pair of Vintage Mid-Century Modern Couroc of Monterey Black Trays Cats & Butterflies
Gorgeous pair of vintage mid-century modern Couroc of Monterey black trays. One tray with inlaid cats with gold accents. And one tray with butterflies. They are in wonderful vintage condition and still retain their Couroc labels one even has its original price stickers from Dillard's. These are circa 1960s-1990s.
Trays:
Rectangular Tray – .75H x 18W x 12.5D Inches
Oval Tray – .5H x 12.5W x 9.5D Inches
Weight – 3.6 Pounds Both
Boxed Size:
Height – 5 Inches
Width – 21 Inches
Depth – 16 Inches
Weight – 5 Pounds
What could be better? Cats and butterflies. This pair of beauties are from Couroc of Monterey. One tray is rectangular and is inlaid with wood-grained butterflies in turquoise, coral, brown, and natural with gold accents. The other tray is a somewhat oval shape and has inlays of a pair of cats in mosaic stone with gold accents. They are made of a special black phenolic resin developed by Guthrie Courvoisier and his wife, Moira Wallace. It is impervious to alcohol, alkalis, acids, boiling water, and cigarette burns. Making them perfect for cocktail trays. This pair will be fabulous used in your bar area, kitchen, or dining room. Or maybe just display them on a shelf!
Couroc of Monterey was founded by Guthrie Courvoisier in 1948 in…, of course, Monterey, California. They produced resin trays and other serving pieces. Their primary material used was a proprietary formula of phenolic resin Guthrie developed with the help of his wife, Moira Wallace, and named Couroc. Which is an amalgamation of Courvoisier and rock. Implying that Couroc is hard as rock. Moira, as an artist, oversaw design. She gathered together a group of like artists to help her creations come to life. They operated in a somewhat commune situation in the early years using "found" items such as paperclips and springs along with shells and other items they beachcombed to make the amazing inlays. Their resin went through experimentation and changes before the end result which is alcohol proof and impervious to alkalis, acids, boiling water and even cigarette burns. Their products were sold in up-scale retail businesses and remained popular through the 1970s. In the 1980s they began to struggle and were out of business in 1998 after 50 years.
Guthrie Courvoisier, founder of Couroc of Monterey, was born in 1903. He inherited Courvoisier Galleries in San Francisco from his father. Although the gallery was founded in 1905 it didn't gain recognition until Guthrie made it "The First Name in Disney Art" by being the exclusive gallery for Disney's animation cels. However, the gallery closed in 1942 to make plastic airplane parts for the military. They retained their Disney exclusivity until 1946. With the combination of these experiences he founded Couroc of Monterey in 1948 along with his wife and artist, Moira Wallace. Moira was also a California native. She was born in 1910 in Carmel. She was a child prodigy and by the age of 13 had 24 drawings published in the San Francisco Chronicle. She has murals all around California and work in The Fine Arts Museums of San Francisco. Wallace died in 1979 and Courvoisier died ironically the same year and month as Walt Disney…December 1966.
Couroc advertised "Any tray can serve a drink. Only Couroc can start a conversation." Start conversations in your home. Make these yours.
Keep in mind warehouse414 items are vintage and not new; they will have signs of use and wear. Please see photos and zoom in for details. We attempt to portray any imperfections.
Late 20th Century, Mid-20th Century
Guthrie Courvoiser and Moira Wallace