Selection Required: Select product options above before making new offer.
Error: There was an error sending your offer, please try again. If this problem persists, please contact us.
Late 20th Century Ekornes Stressless Royal Recliner Black Leather Lounge Chairs and Ottomans a Pair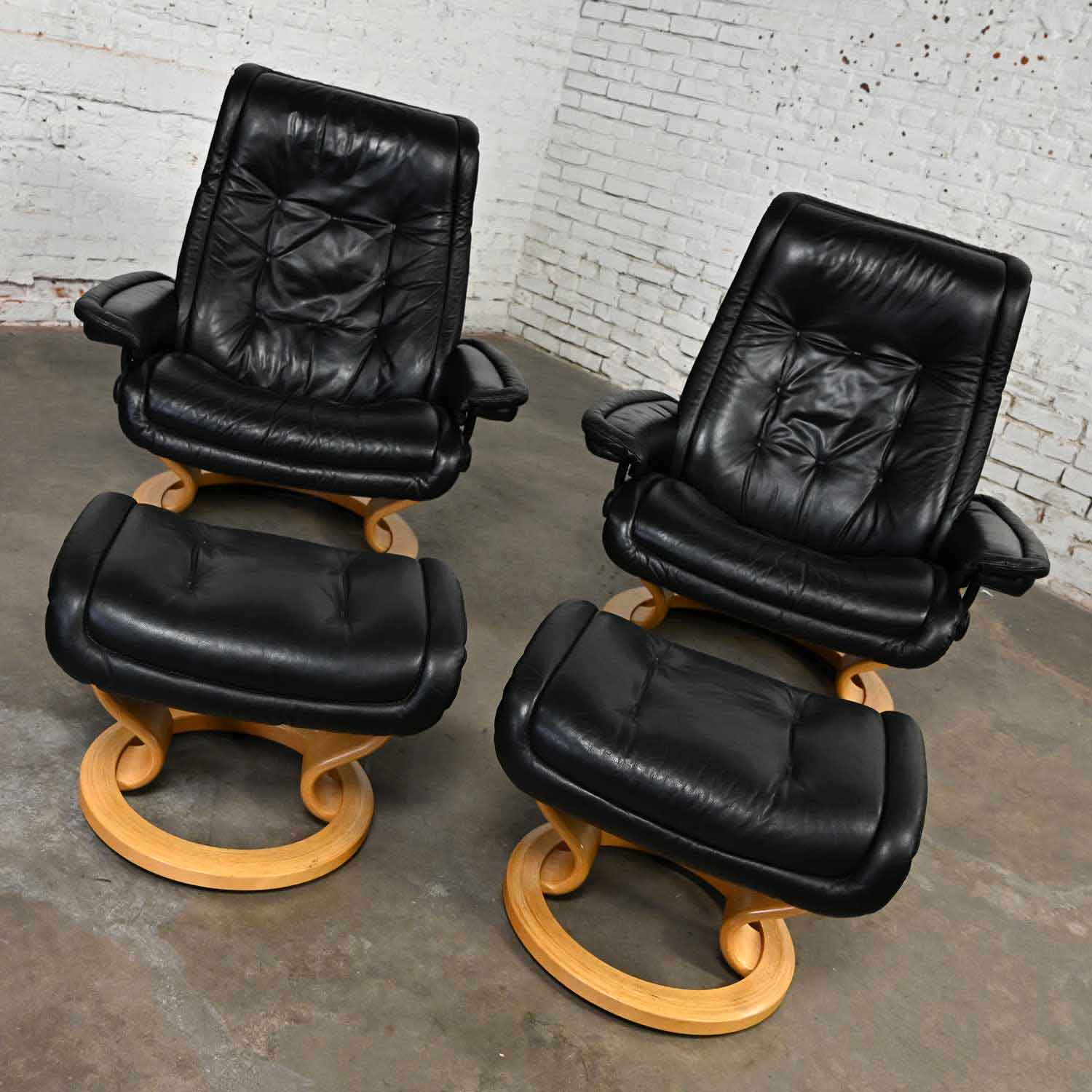 Late 20th Century Ekornes Stressless Royal Recliner Black Leather Lounge Chairs and Ottomans a Pair
Handsome vintage Ekornes Stressless Royal Recliner black leather lounge chairs with wood bases, a pair. Beautiful condition, keeping in mind that this is vintage and not new so will have signs of use and wear. We have cleaned, polished, and reconditioned the leather however, there are signs of wear as you would expect with use and age. There are no tears that we have detected, and the wood is in excellent condition. Please see photos and zoom in for details. We attempt to portray any imperfections. Circa, Late 20th Century.
No, you don't have double vision… but you are DEFINATELY SEEING DOUBLE!!!  This may be THE most comfortable chair in which you will ever sit!! And there's a bonus!…There are TWO Stressless Royal Recliner Lounge chairs and TWO matching ottomans! The first design was introduced in 1971 with a chrome base. It was launched in Norway and immediately became a sought after international success for Ekornes. The wooden base model was introduced in 1981 and is still in production today. Ours are definitely vintage era and wear lovely black leather with button detail on the seats, backs, arms, and ottoman tops. The bases are comprised of lighter oak colored wood with a circular base and curved arms that hold the chair and ottoman cushion.  It was the first recliner to meet ergonomic needs for movement & support, comfort, and functionality. Their patented features glide, recline, swivel, and support in all of the right places and although this particular pair look the same and have all of the same features, they have different mechanisms. Which would suggest that the prior owner loved the first one so much, they needed another and married this pair! What a match made in heaven!!! One has a handle and the other is more of a knob (see photos) and they are both extremely comfortable and scream quintessential Scandinavian Modern magnificence!! This set up would be BEAUTIFUL in the study facing the fireplace, in the sitting room with a wonderful accent table between the chairs, in a family or gaming room, or in the living room across from your sofa. Honestly, there isn't anywhere we can think of that these chairs wouldn't make an inviting space to sit down, lean back, and indulge in the most impeccable style and incredible comfort you've ever felt! There's something to be said about the reputation of a company that creates something so iconic that it can withstand the hands of time…Ekornes is that company, and THIS is that lounge chair! And because there's a pair, this deal is twice as nice!
Most people know that Ekornes is a Norwegian company. What you may not know is Ekornes began in the mattress industry. The journey starts in 1934 with founder J.E. Ekornes. At that time, Ekornes was manufacturing springs for furniture companies in the area, and soon after, all throughout Norway. In 1947, Ekornes made a huge leap into the production of wooden furniture frames and parts for day beds and sofa beds. And soon after, they began production of their own mattresses. Their foamed plastics changed the mattress industry. By the time 1966 came around, Ekornes was releasing its newest and first collection of lounge furniture. This made Ekornes the first furniture manufacturer in Norway! Ekornes quickly became a household name in their country and in 1971 the Stressless Recliner was introduced. At the time, no one at Ekornes knew that the introduction of this early model Stressless chair would soon become the bulk of their business. Just 5 years after, The Stressless Brand alone hit the 100 million Norwegian Krone mark! In 1994, Ekornes celebrated its 60th anniversary and by 1996 the Stressless Chair had been on the market for 25 years. In March of 2001, Ekornes opened its famous showroom "Ekornes Bua" in Alesund, Norway and between 2002 and 2007, showrooms were opening up all over the world: Sao Paulo, Paris, Las Vegas, Berlin, and several more cities in Europe, Asia, and The United States. They are still in production today.
We know you love this pair of black leather and wood base Ekornes Stressless Royal Recliner lounge chairs & ottomans. So, what's the "stress?" Don't wait, "Stress…Less" … and make them YOURS!!!
Keep in mind warehouse414 items are vintage and not new; they will have signs of use and wear. Please see photos and zoom in for details. We attempt to portray any imperfections.
Modern, Scandinavian Modern
Faux Leather, Leather, Metal, Plastic, Wood
Chair Size Each: •Height: 39 Inches •Width: 35.5 Inches •Depth: 29.5 Inches •Seat Height: 17 Inches •Arm Height: 21 Inches •Inside Seat Width: 24 Inches •Inside Seat Depth: 19 Inches •Inside Back Height: 27 Inches •Clearance to floor: 10 Inches •Weight: 48.2 Pounds Ottoman Size Each: •Height: 16.5 Inches •Width: 21 Inches •Depth: 16 Inches •Weight: 12.16 Pounds
Crated Size: •Height: 71 Inches •Width: 36 Inches •Depth: 41 Inches •Weight: 300 Pounds
1stDibs, Chairish, EBay Collective